Lee Wilson: Fueling Creative Passions through Professional Surfing

"I'm fortunate enough to have surfing as my job at the moment. I see, hear and feel a lot through surfing. So if art is an expression of oneself then surfing must play a huge part in what I create."


Lee Wilson is someone who grabbed our attention immediately through his clear drive toward living a passionate lifestyle. He's born and bred in Indonesia and is probably most well known for his life as a professional surfer. What most people do not know is that Lee shares an equal interest in creating art and cooking.

Lee was born in Jakarta but grew up in Kuta, Bali. He was working toward gaining exposure in the surfing world for a long time but was a bit out of the spotlight being in Bali away from all the industry. After taking a brief hiatus from surfing to live and work in New Zealand he returned to Bali with a second drive towards living his dream of being a professional surfer and was eventually signed with the apparel brand Brixton.

Lee lives out his days surfing, creating art, and taking care of his beautiful family. Lee clarifies just how much of a family man he is stating "What motivates me is my daughters. I want to provide for them in every way but I must achieve this without losing myself." a few words any regular nine to fiver may be able to relate to.

He shares that his favorite medium is in acrylic painting however we have a few examples of other realms he has dove into such as animation, furniture collaboration, and others. It was a pleasure going back and forth with Lee you can read our interview with him below.
Just wanted to kick it off by thanking you Lee for participating in this interview. Our whole deal is exposing people who live a life that they're passionate about and it appears at least from the outside looking in that you reflect just that.
It's my pleasure. And I assure you that what you see is what you get. My passion runs too deep to ignore and leave now. My studies of surfing, art and food will continue with out doubt. Nothing will change that.

Could you explain how important it is to you to allow some time for making art or surfing or whatever brings you joy on a daily basis?
Time is key. But not just time itself, making good use of my time. For example, portraits aren't really my thing. But it's a task I set for myself in hope to learn new things within myself. Portraits are very difficult (for me) But with time, I can render the image until it is satisfactory to myself. That's the hard part. The easy part is the abstracts I create from the confidence I've gained from using my time wisely. From study and practice.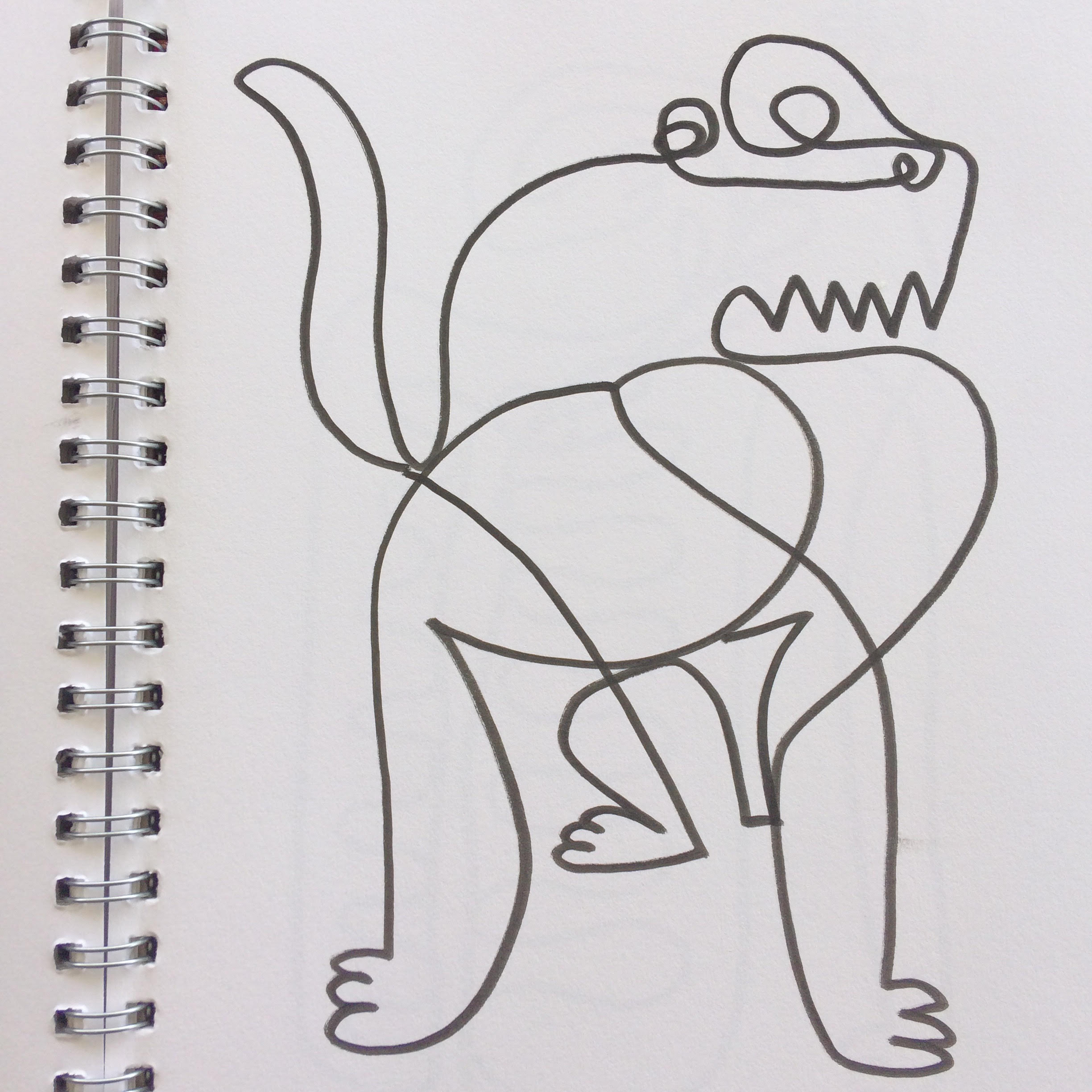 I've had the chance to visit Bali a few times and it always leaves me in awe, what brought you to move your life there?
I was born here (Jakarta), my mother is Indonesian, I grew up in Kuta Bali. This is home for me. And will always be home.

We've been checking out your artwork a lot lately and have noticed you're really into the continuous line form of drawing, what started that?
I notice a lot of people doing the continuous line. I have no idea why I started doing it. It felt natural and easy. Like second nature. I feel blessed that I can do that. It's therapeutic. The result often aesthetically pleasing, to my eyes anyway.

What mediums do you find yourself drawn towards painting, film making, photography, drawing?
All of the above. They all compliment each other and I respect them equally.

It's clear after looking at your Instagram that you're a bit of a foodie. Is that just the product of living in Bali with so many great restaurants or have you always been drawn to food? What's your favorite dish to eat/cook?
My mum is an amazing cook. I watch her all the time. From a young age. When I was a kid, We also had a vhs box set 'cooking with Kurma' He was this hippy vegetarian chef, I was so drawn to watching him cook. I don't know why. Maybe cause I love eating. I studied hospitality and Home economics up until graduation of high school and haven't stopped cooking and watching people cook till now.

What motivates you to keep creating art? Do you see it taking you in a certain direction?
What motivates me is my daughters. I want to provide for them in every way but I must achieve this without loosing myself. The future is uncertain, but what is certain is what I choose to do in the present. I believe that making good use of my present will better the chances of a better future for my daughters.

Do you have a dream project that you would love to see happen?
Yes, people always ask me for prints. I have not yet ventured in that direction and might not ever. I do however want to print my art on shirts and own a boutique purely for shirts. All white marble floor, white walls. Racks of colourful cotton tees paired with complimenting coloured prints of my creation. Royal Beach Bum would be the name of the store.
---
Similar but different: